Learn About Our Procedures
About Our State of the Art Facility
Sarasota Plastic Surgery Center is the private cosmetic surgery practice of Drs. Braun H. Graham*, David L. Mobley*, Scott J. Engel* and Brian M. Derby. These surgeons have a long-standing reputation for excellence in plastic surgery and creating natural, beautiful results for their patients. Our Sarasota, FL campus includes an ambulatory surgery center and medical offices both equipped with advanced technology, as well as a full-service MedSpa and Skin Care Store offering advanced skin rejuvenation. This unique "one stop shop" enables us to offer unparalleled convenience and continuity of care for our patients and meshes well with our extreme dedication to patient satisfaction. Sarasota Plastic Surgery was founded in 1991 with the aim of continually pursuing excellence in plastic surgery. That mission has resulted in talented surgeons and an exceptional staff who work hard to stay abreast of the most recent advances in medical and cosmetic procedures. Our surgeons enjoy improving the appearance and lives of their patients, and they do so with the highest safety and quality standards in mind.
Visit Facility Page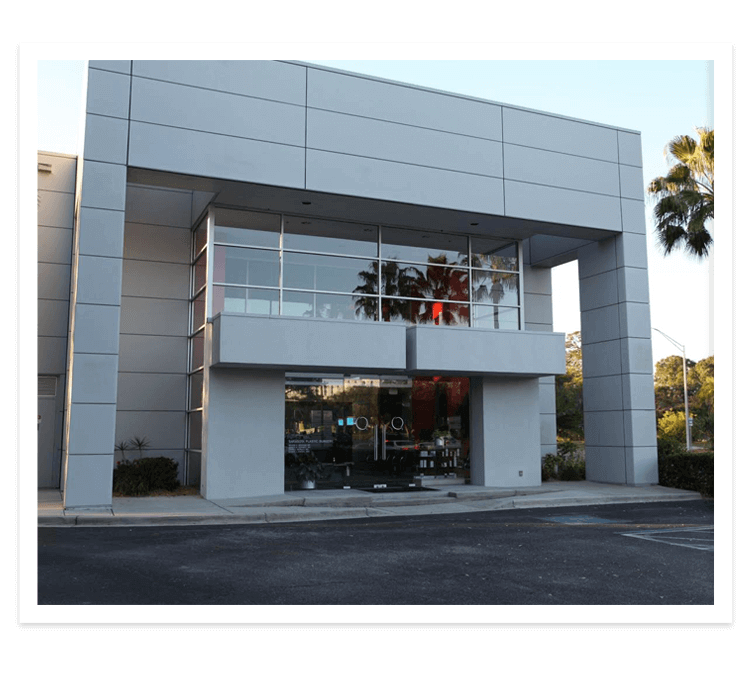 Reviews
This is my second procedure with Dr. Derby! Dr. Derby did a tummy tuck for me in January. I was so pleased with the results and with Dr. Derby I had a second procedure done. Dr. Derby did a breast reduction for me 4 weeks ago. I could not be happier! My neck and back pain subsided and my clothes fit so much better. Dr. Derby made my breasts not too big, not too small, but just right. I now have Goldilock breasts! Dr. Derby is a wonderful young surgeon. I am so glad we have him in Sarasota!
My Breast Augmentation Experience Exceeded my Expectations - Intuitive and a pleasure to do business with, Dr. Derby is a great doctor all around. - - Upon my first consultation, I knew I had found the best doctor for me and with that, Dr. Derby made me feel confident in my decision to have breast augmentation. I left the office 100% sure I wanted this and for the right reasons. I never felt rushed deciding size, shape, and placement. Dr. Derby spent a lot of time with me documenting notes of my concerns and my wishes of overall appearance. He made me feel very comfortable with extraordinary bedside manners each and every time I visited his office. The evening of my procedure, he called to check in to make sure I was feeling well. As a newbie to cosmetic surgery, I felt on edge on whether or not it would be worth it to me to have this procedure done. I'm so pleased to say my husband and I couldn't be and happier with the results. I received exactly what I desired with an outstanding doctor/patient relationship. I've already recommended him to others seeking out similar procedures. In the future, If I choose to have anything else cosmetically done, I wouldn't have to look any further for a facility that was more welcoming, clean, and most of all professional. Best money I ever spent!!
This Specific Doctor! - I view the choice for a plastic surgeon in 3 areas. Reputation; manner; results. I was walking in with a face that had been treated with Botox in such a way that, to me, I looked grotesque. I could smile on one side and the other side of my mouth was paralyzed by the fact that Botox took effect on one side but not on the other. The Botox had been administered by another doctor in another state. To say I was nervous about doing anything else at all was an understatement. I remember Dr. Graham saying to me, when I was considering a lower-priced dermatologist to address my face, "Think about it; it's your face." Good words. I did think about it and I did proceed with Dr. Graham. I had known numerous people who had seen him for successful surgeries, and many of them could afford to go to any doctor in the world. They chose Dr. Graham. He took the time with me, explained, reassured and scheduled me in a time frame for which I could be in town. He was very well recommended and has an unusually admirable reputation. That is what initially got me there. His manner was kind and sweet yet also had a touch of confidence and conviction that he could help me that sort of made me pay special attention to the level of expertise and care I was about to receive.That brings us to the results. No one but a few close friends know I had this surgery. Yet everyone says how great I look, that life must be treating me well, that I seem so happy and content these days. Dr. Graham created the perfect look with a gentle touch, with not too much but very much enough for significant improvement and for rolling back the clock. I am 64. Most people guess that I'm in my early to mid-40's. Maybe that's just being polite but the fact that these compliments come from such diverse individuals and on the heels of this surgery must be more than coincidental.I must compliment, too, the staff at Sarasota Plastic Surgery Center. Helpful, polite, kind, caring, reassuring....they are extremely supportive and no question seems to mundane or silly for them to answer. They are prompt at returning a phone call and bend over backwards to make scheduling work. The office feels good. It is comfortable, tasteful, clean, nurturing, peaceful.I would go to Dr. Braun Graham again. Plastic surgery is not inexpensive but we don't get another body to live in. Not only would I recommend his work to others, I would return to his care myself knowing I was in the best hands possible. I say this, too, because I have had previous procedures and while I have interacted with some very good physicians and surgeons, I believe Dr. Graham is at the very top of the list in the qualities I value.
Healing time .Comfort levelTreated wellDr mobley
I met Dr. Derby as a patient of the trauma team at SMH . His professionalism, knowledge and skills are superior . His bedside manner is wonderful. I did't think they made doctors like him anymore.
4.9
298 Total Reviews
Sarasota's Premier Plastic Surgery Center
There are many doctors who perform cosmetic and plastic surgery in Sarasota. However, when you desire a result that only a handful of doctors in the world can achieve, choose Sarasota Plastic Surgery Center. Great plastic surgery is the merging of artistry, experience and science. Great plastic surgeons have a delicate touch, vast experience and an aesthetic eye. Our *board-certified physicians have the highest possible credentials and training and are known for their exceptional and natural results.
"The Center Of Attention" is not just a tagline, but represents our commitment to the highest possible standards of patient care. Every facet and every aspect of The Center is a testament to our insistence on excellence and safety. We believe plastic surgery, at its core, is about honest communication and realistic expectations. Our doctors will educate you on your options and listen to your needs even if you choose not to undergo surgery. At Sarasota Plastic Surgery Center, we will make you "the center of attention" concerning every aspect of your care and anticipate you will see why we are considered a premiere plastic surgery practice in Sarasota.