Learn About Our Procedures
About Our State of the Art Facility
Sarasota Plastic Surgery Center is the private cosmetic surgery practice of Drs. Braun H. Graham*, David L. Mobley*, Scott J. Engel* and Brian M. Derby. These surgeons have a long-standing reputation for excellence in plastic surgery and creating natural, beautiful results for their patients. Our Sarasota, FL campus includes an ambulatory surgery center and medical offices both equipped with advanced technology, as well as a full-service MedSpa and Skin Care Store offering advanced skin rejuvenation. This unique "one stop shop" enables us to offer unparalleled convenience and continuity of care for our patients and meshes well with our extreme dedication to patient satisfaction. Sarasota Plastic Surgery was founded in 1991 with the aim of continually pursuing excellence in plastic surgery. That mission has resulted in talented surgeons and an exceptional staff who work hard to stay abreast of the most recent advances in medical and cosmetic procedures. Our surgeons enjoy improving the appearance and lives of their patients, and they do so with the highest safety and quality standards in mind.
Visit Facility Page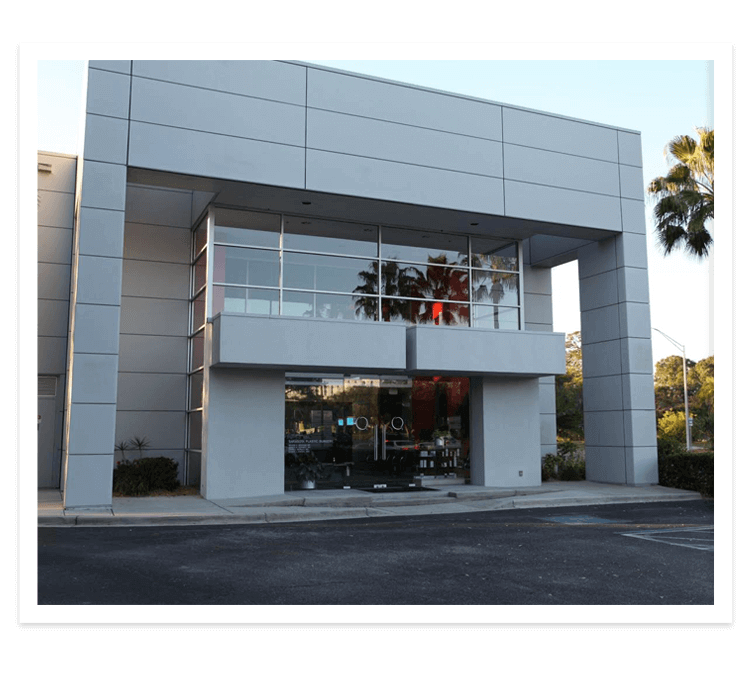 Reviews
30 Years Old, I Wanted to Add Lift and Fullness to my Breasts - Sarasota, FL - Dr. Derby was an amazing doctor to work with. I felt very comfortable around him and he listened to what my needs/wants were, and he delivered. He was very compassionate about his work and I could tell he put in the extra time and effort, he truly loves what he does. I even emailed him after my pre-op appointment to express what I wanted further and he called me promptly to ensure we were on the same page. My breast augmentation was the first surgery I've ever had and while I was nervous to be put under, I felt 100% at ease knowing I was in good hands. He followed up with me every day and my recovery process was easier than I could have ever imagined, I was out of the house the next day for my follow up appointment and I felt great. I have recommended him to all my friends & family for any procedures they were interested in. - - I wanted to be able to wear a sports bra and my breasts not have the "pancake" effect. I also wanted the option of not wearing a bar since there are so many cute clothes that have open backs, mainly dresses. I talked about having a breast augmentation for approximately 5 years and I wish I wouldn't have waited so long, I love the results.
74 Years Old and Could Not Get Rid of Waist and Abdominal Fat - Sarasota, FL - Dr. Derby is absolutely fabulous! He was very thorough about my options. He listened to my concerns and addressed them very caringly. He is also very courteous, never condescending. I cannot recommend him enough. Dr. Derby is a real sweetheart in addition to being a gifted plastic surgeon. At my age of 74, I was a bit hesitant but Dr. Derby made me feel totally at ease.
I was amazed that the procedure I had could actually give me the results that I never thought were possible. I am now looking forward to the end results - a few months down the road - when I will no longer feel the numbness in the surgery sites and will actually only see very faint lines where the incisions were. I am very happy. I never imagined that I could have my wings" removed and be able to wear so many nice clothes because my arms are so trim. Thank you, Dr. Mobley."
Dr. Derby's first priority was making me feel at ease. He listened to me, checked the wound that I needed fixed because it would not close and explained step by step his procedure. During surgery under local anesthetic he constantly told me what was going on, check to make sure there was no pain and even called me that evening and the next day to check on me. I've had two follow up visits and I'm extremely pleased. I look forward to seeing him in about a year for another procedure.
Age 40; 3 Kids and Lots of Extra Skin in the Tummy Region - Sarasota, FL - To anyone out there thinking about getting a tummy tuck, Dr. Derby is /was so attentive. He truly put me at ease by answering every single question that I had and took as much time as needed to make me feel comfortable about the procedure even after the surgery was completed.Not only is he extremely educated in the area of abdominoplasty, but his bed side manner is amazing. He truly showed concern for me as his patient and made me feel so comfortable. I would recommend him to anyone looking to have cosmetic surgery done. - - I'm a mother of 3 very large baby boys who caused my stomach to become covered in stretch marks and sagging skin. I hated the way I looked in a bikini or even just showing my stomach in general! I had the abdominoplasty surgery done on March 9th of 2016. Excited but nervous, I arrived to the surgery center where I met with my nurses (amazing) and Dr. Derby. They were prompt and so professional. When I woke up, to my surprise, I really wasn't in as much pain as I had expected. I just had a lot of discomfort. I spent that night in the rehab center and went back to see Dr. Derby the next morning. After about two weeks I was able to start getting up and move around (with pain meds) to shower on my own. I returned to work (system admin) after 3 weeks and was a little uncomfortable but able to do normal activities of my job. After the 4 month mark I could start to see the swelling go down and also started to feel more like myself again when moving. I am now 6 month post-surgery and look (not to toot my own horn) amazing! I so love to show off my tummy in a bikini and even went down in a size. YAY!! For me, it was so worth it but it took the right team and surgeon! I would do it all over again in a heartbeat! So, here is a BIG Thank You to Dr. Derby and staff for your amazing skills and incredible bedside manner. I truly appreciate the way you took care of me during the surgery and as you continue to do so as your patient.
4.9
277 Total Reviews
Sarasota's Premier Plastic Surgery Center
There are many doctors who perform cosmetic and plastic surgery in Sarasota. However, when you desire a result that only a handful of doctors in the world can achieve, choose Sarasota Plastic Surgery Center. Great plastic surgery is the merging of artistry, experience and science. Great plastic surgeons have a delicate touch, vast experience and an aesthetic eye. Our *board-certified physicians have the highest possible credentials and training and are known for their exceptional and natural results.
"The Center Of Attention" is not just a tagline, but represents our commitment to the highest possible standards of patient care. Every facet and every aspect of The Center is a testament to our insistence on excellence and safety. We believe plastic surgery, at its core, is about honest communication and realistic expectations. Our doctors will educate you on your options and listen to your needs even if you choose not to undergo surgery. At Sarasota Plastic Surgery Center, we will make you "the center of attention" concerning every aspect of your care and anticipate you will see why we are considered a premiere plastic surgery practice in Sarasota.