Learn About Our Procedures
About Our State of the Art Facility
Sarasota Plastic Surgery Center is the private cosmetic surgery practice of Drs. Braun H. Graham*, David L. Mobley*, Scott J. Engel* and Brian M. Derby. These surgeons have a long-standing reputation for excellence in plastic surgery and creating natural, beautiful results for their patients. Our Sarasota, FL campus includes an ambulatory surgery center and medical offices both equipped with advanced technology, as well as a full-service MedSpa and Skin Care Store offering advanced skin rejuvenation. This unique "one stop shop" enables us to offer unparalleled convenience and continuity of care for our patients and meshes well with our extreme dedication to patient satisfaction. Sarasota Plastic Surgery was founded in 1991 with the aim of continually pursuing excellence in plastic surgery. That mission has resulted in talented surgeons and an exceptional staff who work hard to stay abreast of the most recent advances in medical and cosmetic procedures. Our surgeons enjoy improving the appearance and lives of their patients, and they do so with the highest safety and quality standards in mind.
Visit Facility Page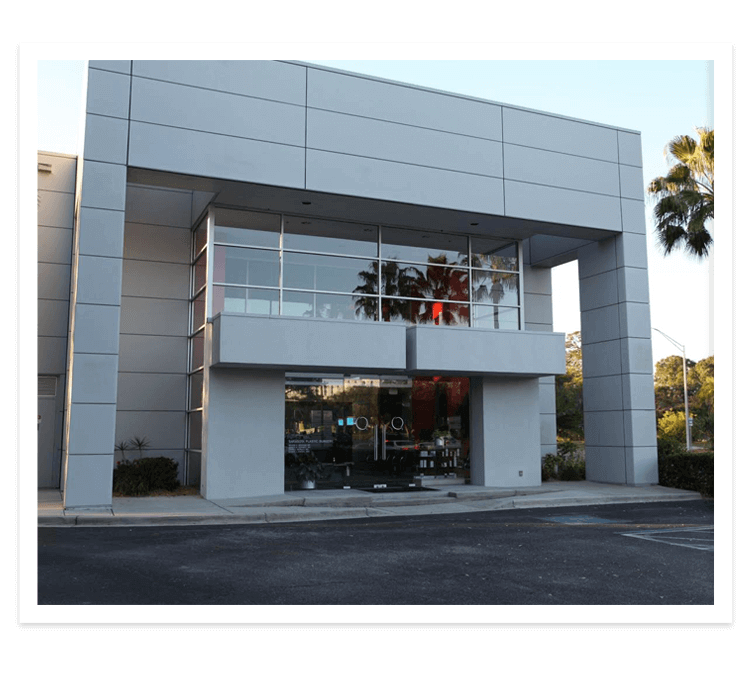 Reviews
I was amazed that the procedure I had could actually give me the results that I never thought were possible. I am now looking forward to the end results - a few months down the road - when I will no longer feel the numbness in the surgery sites and will actually only see very faint lines where the incisions were. I am very happy. I never imagined that I could have my wings" removed and be able to wear so many nice clothes because my arms are so trim. Thank you, Dr. Mobley."
These Trough and Mouth/lip Area Filler - Sarasota, FL - Wonderful caring and skilled Plastic Surgeon. - - I recently had Restylane injected into my tear troughs, mouth corners, lip lines and upper lip. I had pretty deep hollows under my eyes and wanted a few of the lines around my mouth softened and the corners of my mouth lifted. Because I needed more than one vial, I opted to have a little injected into my top lip. Being 65 years old, my lips are disappearing. I had a lot of bruising on the corners of my mouth and had a couple of black eyes in spite of icing diligently. Also, had "chipmunk cheeks" for close to a week because the tissue under the eyes is so sensative it caused a lot of swelling. I was not at all comfortable with the way I looked for at least a week. Now that the bruising and swelling is gone, I am very happy with the results . I will probably do this again but will carve out a week of down time to recover. I do tend to bruise and swell more than most people so my experience may be a little extreme and not the norm. I wanted to post this so if anyone has the same experience just be patient and give it at least a week for the results. Also, I think it goes without saying that going to the best board certified plastic surgeon you can find who is skilled in this procedure is a must.
Exceptional Experience! Sarasota, FL - Dr. Engel and his entire staff - from the front desk staff to the surgery scheduler to the OR nurses and the anesthesia Doctor - allowed me to have the best experience I could have asked for. He took the time to answer every single question and with his expertise suggested the appropriate size and implant for my body type. I would recommend anyone looking for an experienced, professional and caring surgeon. After 3 months, I am beyond happy with my results and they get better each day! Thank you Dr. Engel for changing my life!
Worth Every Penny! I LOVE Them! - Sarasota, FL - Dr. Engel is incredibly skilled and talented. From the very first interaction with him he proved himself to be an excellent physician, an engineer (positioning breast in just the right place especially in my case takes skill), and an artist. He takes his time with you and very thorough in his care each step of the process from consult to post care. I cannot say enough good things about my experience and my results. Thank you Dr. Engel! - - I had a hysterectomy 16 months prior to my BL/BA. After 19 years on birth control pills my breast quickly deflated when I removed the exogenous estrogen of oral contraceptives. They had already begun to change due to age but with major change in hormones and then a resulting weight loss (in part due to the change hormone fluctuations and part due to change in exercise regimen), I was with what was once 34DD/34DDD to a 32C/D. As much as I hate to describe my very own breast this way, they were sad little socks on my chest.Dr. Engel was very thorough with my initial consult. After discussing how my breast had changed most recently bringing me into his office and my wishes we began discussing all the options available. We discussed pros and cons of saline vs. silicone. Then we discussed the different options to lift and the pros/cons. You will see many physicians and eventually even many patients repeating the mantra on Realself, "go for shape, don't worry about scar". I am very glad I learned this mantra and chose my PS by this. I knew going into this I would likely end up with a "lollipop" or "anchor" but more likely the "anchor. He was able to digitally show the difference between the two lifts and I agreed that an anchor would be best due to my desire to have more lift. It is engineering with artistry. I wanted my "big" breast back and at the right level. I booked my surgery the same day as my consult, two and a half weeks later. Dr. Engel has a professional, kind, easy going bedside manner. He said more than once he is a perfectionist. He is. His work is evidence of this and I am fortunate to have it.I could not be more thrilled with the results. I love looking in the mirror now. It is amazing to see my body not only as it was, but better. The scars - I'm only three weeks out and they are so fine and light that I am confident with the recommended scar gel that they will be difficult to distinguish in time. I text my husband at least once a day telling him I love them. Dr. Engel's entire staff from the front office to the nurses were awesome. Very patient with redundant paperwork I needed for my workplace to return to work. And quick to return phone calls and emails. The entire group is fantastic.
33 Year Old - Breast Revision - Sarasota, FL - During the initial consultation, Dr. Derby examined me and discussed options and outcomes. He showed interest in my daily routine and was able to build a rapport with me instantly. After we made a decision on how to proceed, we had another visit to wrap up the details of my upcoming surgery. He answered all my questions and explained every single detail. The day of the surgery we revisited all concerns and and after the surgery he followed up with me many times.Dr. Derbys personality made me feel supported; I could clearly see how outstanding his work ethic was and i never had a doubt about his skills. I am 100% pleased with my choice and I would recommend him to anyone. - - I had saline implants placed 5 years ago. It happens, one of them ruptured. I did my research, and I found Sarasota Plastic Surgeons. They have a great reputation in the state, so I let them choose one of the Dr.s for me. Dr. Derby. I had my first consultation and I instantly knew i wanted to do the procedure with him. The way he explained everything to me made a huge difference and how charismatic he was sealed the deal. I had other consultations with other Dr.s in the area but i knew Dr. Derby was the one. He communicated so clearly before the surgery, the day of the surgery and after the surgery. The follow up he did with me really made me feel supported.The surgery itself went great. I had very little discomfort and was able to get back to my regular life within 2-3 days. Results are AMAZING. I can already tell even though its been less than 2 weeks.The whole staff at Sarasota Plastic Surgeons was very friendly and professional. But what made the difference was Dr. Derby.In conclusion, with the reputation the group had plus the amazing personality and work ethic Dr. Derby had, it was very easy for me to make the decision. Thank you!!!!
4.9
261 Total Reviews
Sarasota's Premier Plastic Surgery Center
There are many doctors who perform cosmetic and plastic surgery in Sarasota. However, when you desire a result that only a handful of doctors in the world can achieve, choose Sarasota Plastic Surgery Center. Great plastic surgery is the merging of artistry, experience and science. Great plastic surgeons have a delicate touch, vast experience and an aesthetic eye. Our *board-certified physicians have the highest possible credentials and training and are known for their exceptional and natural results.
"The Center Of Attention" is not just a tagline, but represents our commitment to the highest possible standards of patient care. Every facet and every aspect of The Center is a testament to our insistence on excellence and safety. We believe plastic surgery, at its core, is about honest communication and realistic expectations. Our doctors will educate you on your options and listen to your needs even if you choose not to undergo surgery. At Sarasota Plastic Surgery Center, we will make you "the center of attention" concerning every aspect of your care and anticipate you will see why we are considered a premiere plastic surgery practice in Sarasota.