Learn About Our Procedures
About Our State of the Art Facility
Sarasota Plastic Surgery is the private cosmetic surgery practice of Drs. Braun H. Graham*, David L. Mobley*, Scott J. Engel* and Brian M. Derby. These surgeons have a long-standing reputation for excellence in plastic surgery and create natural, gorgeous results for their patients. With an on-site, surgical center equipped with advanced technology, as well as a full-service skin rejuvenation and skincare MedSpa, our plastic surgery center offers unsurpassed dedication to patient satisfaction. Sarasota Plastic Surgery was founded in 1991 with the aim of continually pursuing excellence in plastic surgery. That mission has resulted in talented surgeons and an exceptional staff who work hard to stay abreast of the most recent advances in medical and cosmetic procedures. Our surgeons enjoy improving the appearance and lives of their patients, and they do so with the highest safety and quality standards in mind.
Visit Facility Page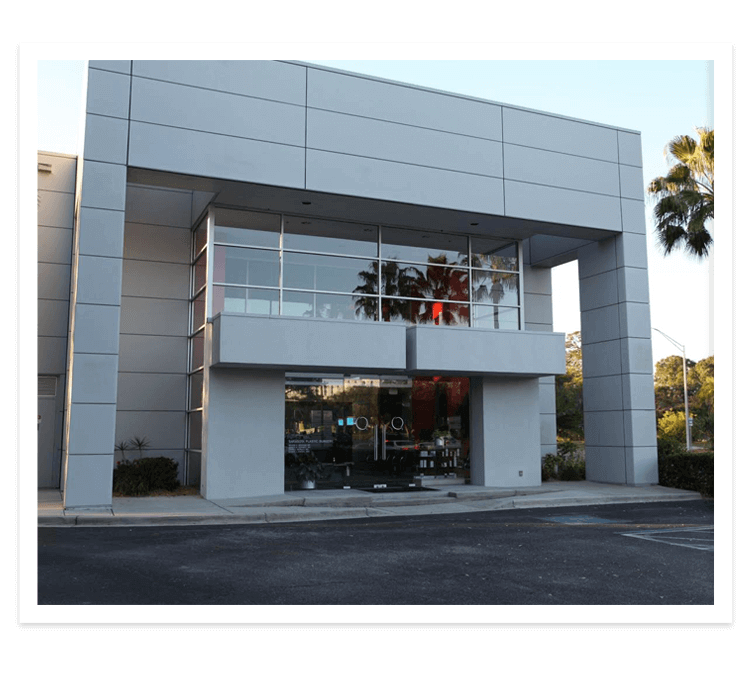 Our Reviews
The staff was extremely kind and helpful. The Dr was extremely thorough and explained what this issue was very well.
34 Year Old Mother of 2 Needing Breast Implants - Sarasota, FL - Dr. Scott Engel was my surgeon. He was extremely professional and knowledgeable. Dr. Engel took his time explaining everything, all my options, and addressed all my questions. Dr. Engel made me feel completely comfortable and that I was in great hands. The results have been life changing. I feel like the woman I once was before having children. I would highly recommend Dr. Engel to all my friends interested in plastic surgery as well as return for future needs. - - My motivation to enhance my breasts was the state they were in after having my two children. They felt deflated and as if there was no breast tissue left. I was ready to feel like my old self again. This was a procedure I have been planning since my early 20's, I was just waiting until I was finished having children to move forward with it.
36 Year Old Fitness Enthusiast Who Wanted to Feel and Look More Womanly :) - Sarasota, FL - Dr Engel is very thorough, knowledgeable, experienced, and personable. He answered every single question with honesty never making me feel pressure to use his services. He is a very genuine person who cares about my overall well-being. He takes an interest in my personal goals and desires. From the moment I met Dr Engel I trusted him. He even called me personally before my surgery to review the procedure, and answer any of my questions, etc. It is obvious that he takes his job very seriously and is very meticulous. I HIGHLY recommend Dr Engel for anyone who may be considering breast augmentation.
Dr. Mobley did a fantastic job. From the consultation, thru the pre and post-op, he and his team were patient, professional and very reassuring. He took the time to answer all of our questions in confident detail. Most certainly all of our future surgeries will be with him and his team.
55 Year Old Suffering Neck and Shoulder Pain Due to Very Large Breasts. Sarasota, FL - Dr. Brian Derby was excellent. From the very beginning I knew I was in good hands. Dr. Derby answered all my questions and concerns. He was professional at all times. - - I had been dealing with neck and shoulder pain for years due to my breast size. During my yearly visit to my primary Doctor I mention the pain I was having and that I was considering breast reduction surgery. She suggested Sarasota Plastic Surgery Center. I met with Dr. Brian Derby at the center to discuss having the surgery. He was wonderful. After my consultation I decided it was time to proceed . I'm completely happy with my results. Dr. Derby was very profession during everything. I couldn't had made a better decision to proceed with the surgery. Recovery was difficult at times but, it was will worth it. I feel better, look better and my self esteem is back. I would recommend Dr. Derby to anyone considering reduction surgery!
4.9
Sarasota's Premier Plastic Surgery Center
There are many doctors who perform cosmetic and plastic surgery in Sarasota. However, when you desire a result that only a handful of doctors in the world can achieve, choose Sarasota Plastic Surgery Center. Great plastic surgery is the merging of artistry, experience and science. Great plastic surgeons have a delicate touch, vast experience and an aesthetic eye.
Our *board-certified physicians are known for their exceptional and natural results. Plastic surgery, at its core, is about honest communication and realistic expectations. Expect our doctors and staff to educate you on your options and listen to your needs even if you choose not to undergo surgery. Great surgical results begin with great communication and education.