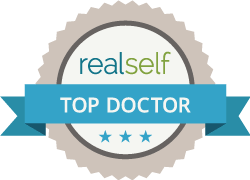 Board-certified plastic surgeon, Dr. Brian M. Derby performs cosmetic surgery of the face, breast, and body. His two years of additional fellowship training in eyelid lifts, facelifts & necklifts, browlifts, breast augmentations & lifts, tummy tucks and liposuction translate into consistently beautiful and natural results for his patients. Dr. Derby's warm, inviting demeanor embodies his plastic surgical practice that always has "treat as family" at the forefront.
As a board-certified plastic surgeon, and a double fellowship-trained cosmetic surgeon, Dr. Derby performs the latest techniques in brow lifting, eyelid lifting, smoothing of lower eyelid bags, tear trough correction, complex eyelid revision surgery, face lifting, neck lifting, fat grafting of the face, breast & hands, and fractionated CO2 facial laser resurfacing. Dr. Derby regularly employs the most up-to-date techniques for breast augmentation, breast lifting, breast reduction, breast reconstruction, and breast implant selection. He's a specialist in the use of "gummy-bear" implants, helping patients achieve beautiful, soft results following breast enhancement surgery. He utilizes "short-scar" and "minimal scar" breast lift techniques, and has extensive experience with the use of mesh support in patients who have very soft breast tissues, or who have undergone several prior breast procedures. Dr. Derby derives great satisfaction from the transformation his patients experience following body contouring, including mommy makeovers, tummy tucks, arm lifting, thigh lifting, liposuction, Brazilian buttock lifts, and labiaplasty. Dr. Derby also has expertise in nonsurgical facial rejuvenation. He routinely uses BOTOX®, Dysport®, and Xeomin® for softening facial motion that creates lines, and fillers such as Juvederm®, Restylane®, and fat for smoothing skin lines and restoring lost volume. Dr. Derby routinely assists his colleagues in Sarasota with reconstructive challenges following Mohs skin cancer excision, breast cancer excision, and trauma.
Dr. Derby is a Florida native who left the state after obtaining his M.D. at the University of South Florida College of Medicine in Tampa. He then completed six years of comprehensive plastic surgery residency training at Southern Illinois University's Institute for Plastic Surgery in Springfield, IL. He added two additional years of elective fellowship study focused on advanced eyelid and face/neck lifting techniques, and cosmetic breast and body surgery under the supervision of leading plastic surgical experts. The two additional fellowship-training years allow Dr. Derby's patients to be placed in the hands of a very extensively and uniquely training cosmetic and reconstructive plastic surgeon. Dr. Derby's regular contributions to the plastic surgical literature have been awarded for their quality at the national level. He continues to stay abreast of the most current approaches to plastic surgical patient care by regularly attending national meetings.
Memberships and Certifications
Dr. Derby is board-certified by the American Board of Plastic Surgery (ABPS). He is a Fellow of the American College of Surgeons (FACS). He is a member of the American Society for Aesthetic Plastic Surgery (ASAPS), and the Southeastern Society of Plastic and Reconstructive Surgeons (SESPRS). He is a member of the American Society of Plastic Surgeons (ASPS) and the Florida Society of Plastic Surgeons (FSPS). He contributes to plastic surgical education by serving as a peer-reviewer of articles submitted to the Aesthetic Surgery Journal (ASJ), the leading aesthetic plastic surgery journal in the world. He also serves on the RADAR Resource Editorial Committee for ASAPS. RADAR is the state-of-the-art means by which plastic surgeons search the aesthetic surgery literature online.

Dr. Derby has received numerous awards, research grants, and recognitions for his teaching, educating, mentorship, and plastic surgical research. He has given plastic surgery presentations at national, and international, scientific meetings. In May 2015, he was awarded Best Research Paper of the Year by the Aesthetic Surgery Journal at the American Society for Aesthetic Plastic Surgery's (ASAPS) annual meeting in Montreal. His academic productivity has added thirteen published book chapters and research articles to his name. In 2017, Dr. Derby was awarded as one of America's Most Honored Professionals.
Privileges
Reviews
"Dr. Derby was professional and overall awesome with the procedure I had completed. I was a little nervous at first, but he walked me through every step during the initial consultation. He also did the same during the procedure. His staff was friendly and the procedure was affordable. "
M.L.
Google
"I am a 72-year-old male who never really paid attention to what the years had done to me. It wasn't until my wife would meet me at the door after work with a worried expression on her face. She kept saying that I looked exhausted, haggard, and ill-as she put it, "like Death warmed over." My problem was the bags under my eyes, a permanent scowl, and drooping eyelids that made the under-eye area look even worse. We sought the help of Sarasota Plastic Surgery and had the good fortune to become a patient of Dr. Brian Derby. Dr. Derby is a caring, talented surgeon and his extensive educational qualifications impressed me, but it is his friendly, outgoing personality that made working with him enjoyable. He is thorough and direct in answering all questions, and he never made me feel like I was asking silly questions, even when I needed to repeat them again for my own reassurance. I told him that I didn't want to look like a caricature and he fully agreed. The results for me are amazing-everyone who has seen me after the surgery tells me that I "look great" or "look rested" without realizing that it was all due to Dr. Derby's skill. I think I have dropped a good 5-7 years of wear-and-tear from my face, and am grateful that my appearance now reflects the young 65-year-old that I feel I really am! -JWC, Placida, FL"
J.C.
Office Visit
"40 Y , Mom of 3 Kids , and I Needed to Do a Tummy Tuck - Sarasota, FL - Dr. Derby is professionel , nice , friendly , lookup after his patient , stay in contact with his patient . - - i had a tummy tuck before and it was very bad experience , that i hate dmy body for that , so i decided to get another one , i met Dr Derby and i felt he is a good one , actually i went to see another Dr in sarasota and i felt that she want only for business , i didnt feel safe with her , plus she wanted me to go home same day after surgery , but Dr.Derby gave me the option that it will be better to stay in a rehab for a night till i feel better .now am 1 month after surgery , i feel good , final results we still need 2 more months to judge better ."
V.
RealSelf
"I came to Dr. Derby because I had a Facelift done previously, about 3 years ago, and I was disappointed. I asked Dr Derby what he thought and what he could do and he recommended many procedures. Because of my age, we settled on doing less because I didn't want to be under anesthesia that long knowing how long I had to recover. He called the procedure a Necklift, but he did way more.. better than my facelift.. took up the skin in a way that I had no jowls! Also, my eyes don't close solidly and my ophthalmologist was even concerned and he made it so they do close and even reduced my earlobes. I wear short hair so my ears stick out. I am delighted with results and I recovered well. He did way more than he had to do and made me look so much better and I am thrilled. I would be happy to tell anyone. I am very grateful. I am older, I am 78. He was very caring of me through this whole process and respected the fact that I was older and encouraged me in ways that were helpful. I'm sure most women my age wouldn't bother with a facelift but I was disappointed in how it turned out the first time. This time was way better. Dr. Derby has a really gentle, caring, not pushy, thoughtful way of relating to someone my age. This is important to me. He looks at you and really listens to you. I really look good when I smile but you wouldn't let me smile in my after photos. I just want to say 'thank you'."
CJ
Office Visit
"I am delighted with my results from a revision Facelift with Dr. Derby. He made me look so much better and I am thrilled. I would be happy to tell anyone about my experience. I am very grateful. He was very caring of me through this whole process and respected the fact that I was older and encouraged me in ways that were helpful. Dr. Derby has a really gentle, caring, not pushy, thoughtful way of relating to someone my age. This is important to me. He looks at you and really listens to you."
A.L.
Healthgrades
Related Posts