Pauldie's Story
Pauldie decided to get a facelift and eyelid surgery in Sarasota with Dr. David Mobley* after being put at ease by his "teddy bear" personality and vast experience. Watch the video below to find out about her procedure and comfortable recovery process.
To meet with Dr. Mobley*, request a consultation at Sarasota Plastic Surgery Center or call (941) 366-8897.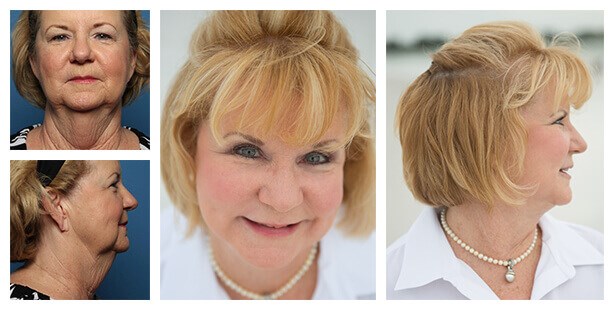 What is it like working with Dr. Mobley*?
Working with Dr. Mobley* was just a great experience. He, from the get-go, made me feel very very comfortable. There was a great trust level immediately, especially when he looked at my face, talked about the things that he was going to do, my recuperation period. He took the time. I was in his office the first time for over an hour, and that really impressed me because he wanted to make sure that I had all of my questions answered that I had, and more importantly pretty much what he thought that I needed to have done. So a great bedside manner – in fact, the day of surgery I think I called him a teddy bear – Dr. Mobley*, the big teddy bear – because he is just such a kind and gentle person and a caring person. He jokes with you. He makes you feel at ease. As he said, doing my face was not his first rodeo, so I can tell you that really made me feel good.
Please describe the day of your surgery.
The day of my surgery, my surgery was actually scheduled for 10:30 in the morning. I got up and took my daily routine of medicine and got dressed. My friend picked me up and drove me to the facility. I actually had my facelift done at the Sarasota Plastic Surgery Center, upstairs. When I got to the office, there is a side door that you enter into. I went up into that, was greeted with the greatest group of nurses. They just really made you feel good. I was excited.
As I said, I think the thing that really surprised me the most that morning – I wasn't afraid, I wasn't scared. I was ready to get the show on the road! I could not wait. Dr. Mobley* had told me that my surgery would probably be about 5 and a half hours. I got there. I was immediately taken into a room. The nurses came in. They made me feel great. They got me all nice and comfortable, and the hardest part of my whole surgery was the nurses trying to find my vein to put the IV in. I've always had that problem. That was the thing that I kind of worried about the most.
Once that was over, it was time to get the show on the road. Dr. Mobley* came in and I sat on the side of the bed, and he takes this wonderful magic marker which I asked him, I was hoping that it was going to be removable, that it wasn't permanent, and we had a good laugh on that, but he actually marked my face up, got very, very close and said, "You know? I think I'm going to do some laser surgery on your neck, as well." We had talked about doing it around my mouth to remove some of the wrinkles, but I said whatever. I'm in here for the long hall. Get it done. Get it over with. Let's get the show on the road.
I went in promptly at 10:30, and I have to honestly say I told Dr. Mobley* in the beginning that he was going to have a lot to work with and the 5 and a half hour surgery probably wasn't going to be enough for this face. Sure enough, I proved myself right. It was 7 and a half hours that I was under, but I think another thing to point out here, too, is I trusted the anesthesiologist. And these are doctors that have been vetted out by Dr. Mobley* – very professional, they're *board certified. I think that's very very important, and that also gave me a lot of comfort. After the surgery, I was in the recovery room, woke up to a large turban wrapped around my head and a very nice nurse saying I could go home.
I got up, drove home, and I would suggest to anybody that has this, just be sure you bring a scarf so you can cover the turban because I don't think anybody would want to see you at a stoplight. It might scare them, but anyway, I came home and I had a very nice recliner chair that I slept in for the first couple of weeks per Dr. Mobley's* instructions and applied the ice packs on the face and that was my surgery day.
Describe your recovery timeline.
I actually had my surgery done on a Monday morning. As I said, the following day, I was at the surgery center to have the drain and the stitches removed and the turban removed. On Friday of that same week I went back and had the stitches removed from my eyelids, which was not painful, a little bit swollen.
It was fantastic. I had no swelling or bruising of my face. I think a lot of that is attributed to the arnica that Dr. Mobley* gives or has you take the day of surgery for the first one and then a couple of days thereafter. I went back the following week. It was actually about 14 days when the stitches came out. Most of them came out. There were a few anchor stitches that remained in, but other than some swelling, I had hardly any bruising whatsoever.
I was actually was wearing makeup and out in public within 2 weeks. I'm a home-based rep so by having the surgery done on Monday, I was actually sitting at my desk on Wednesday and I was able to work from home. I just didn't travel, but I was out and about in 2 weeks. People knew something was up but weren't quite sure what it was, but all in all, within a matter of 4 to 6 weeks, all stitches were out, swelling as going down, and I was able to wash my hair, cut my hair. I couldn't have my ears pierced – repierced, I guess I should say – until about 6 to 7 weeks after the surgery.
What should facelift patients expect?
What you can expect when you have the facelift … Dr. Mobley* actually starts here and goes behind your ear and then back to the back of your head. Also, because of my neck being so bad, Dr. Mobley* cuts underneath here – which to this day nobody recognizes that or sees it, he did a phenomenal job – but both sides, there are stitches and staples. Now, I had the lower ear lobe done so there were a few stitches right behind my ear, but other than that, that was all that happened. It does not hurt at all. I never had any pain with this surgery. Had I known that, that it was going to be painless, I would've had it done a lot sooner.
It's great to have a friend that can take you, your spouse. I had Dr. Mobley* load you up with lots of gel packs to put in the freezer. I did have a pain med, which I took the first night only because of not knowing how I was going to sleep, but I never took another one after that. So, there's also other types of face wash and creams that they ask you to put on your face as part of the recovery. The interesting thing was the following morning, at 10 o'clock in the morning, I went back to the surgery center. They removed the turban, took out the one drain, and washed my hair.
Would you recommend Dr. Mobley*?
Absolutely, I would have no qualms or hesitation whatsoever about recommending Dr. Mobley*. As a matter of fact, I think the highest compliment I could pay him is the fact that people look at me today and say, "Wow, you've had a long vacation or you're very well rested or you've done something to your hair." Most of them say, "You've done something to your hair." No one would ever guess that I've ever had plastic surgery on my face. They know something is different. They know I look really refreshed. And that's exactly what I wanted to accomplish, and that's what Dr. Mobley* wanted to accomplish.
As Dr. Mobley* said, if I wanted to look like Farrah Fawcett, forget it, because that isn't their practice. They want a very natural look. I'm not ashamed to tell people I had a facelift, and in doing so, I tell them there's only one doctor, one practice that they need to consider. Dr. Mobley's* credentials and those that work at the plastic surgery center are of the highest standards, including his operating room. I would have no qualms. He is just an excellent, excellent doctor and has years of experience.
Back to Patient Stories