SculpSure Body Contouring

@headingTag>
Look great. Feel great. Melt 25% of your fat in JUST 25 minutes.
Sarasota Plastic Surgery Center is proud to be the first plastic surgery office to offer SculpSure Non-Surgical fat removal in Sarasota, FL.
Even with diet and exercise, most adults have stubborn areas of fat that seem impossible to get rid of with diet and exercise alone. Now with SculpSure, Sarasota patients can target problem areas in just 25 minutes without anesthesia, needles, surgery, or downtime.
SculpSure is an FDA-approved non-invasive body contouring that treats bothersome areas of fat, helping you achieve the shape you want. The clinically proven procedure uses light-based technology to permanently destroy up to 25% of treated fat in problem areas such as the abdomen and love handles. Once the fat cells are destroyed, the body gradually eliminates them over time, reducing the amount of fat in the treated area. In addition to the fat reduction provided by SculpSure™, the laser firms and tightens the skin.
SculpSure™ is ideal for busy patients who want an effective treatment that won't disrupt everyday life. Because SculpSure™ is completely non-invasive, improving problem areas is quick and easy.
While SculpSure is non-invasive, it is still important to meet with our doctors about your goals for the procedure in a consultation at our Sarasota office. Our experts will go over the SculpSure™ treatment process and discuss your goals and candidacy for the procedure. You will get an opportunity to ask any questions you may have and discuss any concerns about the treatment before you make a decision. Ideal candidates are healthy men and women who are struggling with isolated pockets of stubborn fat.
The newest laser fat reduction system, SculpSure by laser experts, Cynosure®, is the first hyperthermic laser treatment in the world that can help eliminate pockets of stubborn fat without the cost or risks of surgery. The doctors at Sarasota Plastic Surgery Center use the laser lipolysis system SculpSure to sculpt, tone, and smooth the contours of the body without the cost or risks of surgery. While patients should not expect to see the same results that they would with surgical liposuction, SculpSure uses faster, noninvasive technology to reduce targeted fat cells by up to 24%.
Reviews
"Takes very good care of me! - Sarasota, FL - Dr. Derby is very down to earth, frank and easy to talk to. I've had several Botox treatments with him and am extremely satisfied with my results. Would definitely work with him on any other treatment"
- D. /
RealSelf /
May 12, 2017
"The usual and expected skill and attention."
- A. /
Demandforce /
Jun 15, 2017
"Excellent."
- M.A. /
Demandforce /
Jun 12, 2017
"Age 60 Female: Liposuction - Highly Recommend Dr. Derby - Without a doubt, Dr. Derby is the most compassionate doctor I have ever dealt with. From pre-op to post-op, he made me feel well-cared for and totally comfortable as did his support staff. I followed Dr. Derby's advice and had lymphatic drainage massages during recovery which I feel contributed positively to my healing process. I am extremely happy with the results of my liposuction procedure...."
- S. /
RealSelf /
Jun 11, 2017
"The half hour massage was great. The room quiet and dim, nice music. We got right to work and the massage was well done."
- V.M. /
Demandforce /
Jun 09, 2017
Previous
Next
During/After The Procedure

@headingTag>
SculpSure laser lipolysis is performed at Sarasota Plastic Surgery and unlike Coolsculpting™ which requires multiple treatments and is often described by patients as uncomfortable, SculpSure is one treatment with very minimal discomfort. During 1 session, patients can have up to 4 areas treated in 25 minutes. As the laser system is passed over the body, the energy from the laser reaches fat cells without affecting the skin or other cells. The disrupted fat cells are broken down and will be processed naturally out of the body in about 12 weeks. Patients are able to leave after a brief recovery period to resume their normal activities. Patients should avoid strenuous activity and exercise for at least 2 days after their SculpSure session.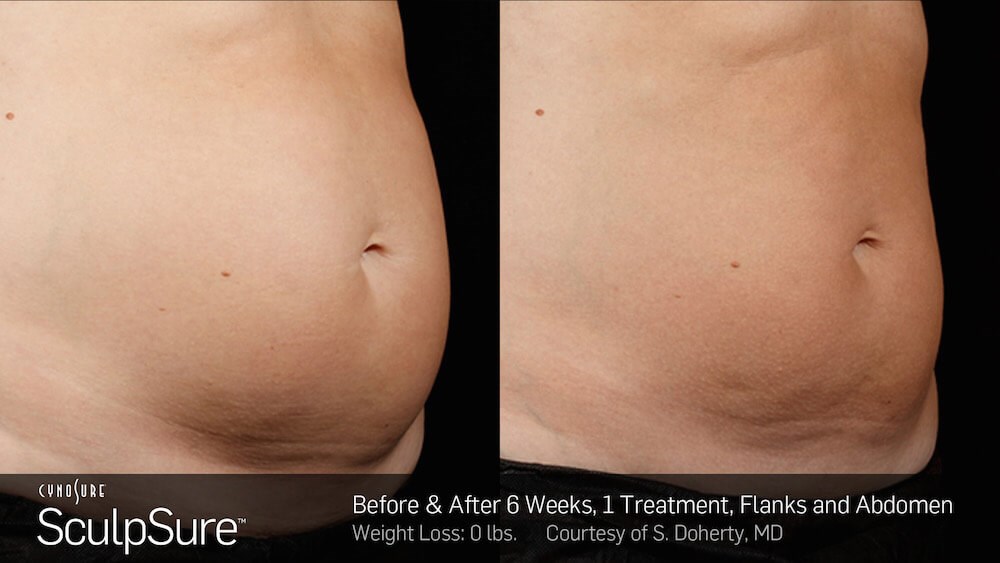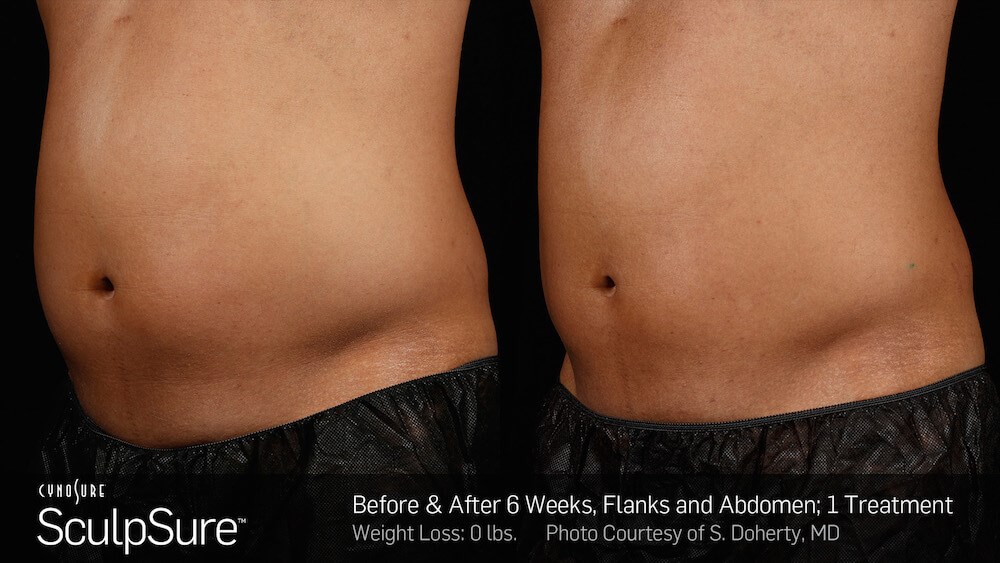 Plan Your Procedure
Average Procedure Time

25 Minutes
Contact Us
SculpSure FAQs

@headingTag>
What is SculpSure?

@headingTag>
SculpSure is an FDA-approved non-invasive body contouring procedure that reduces stubborn fat in areas such as the abdomen and love handles. The 25 minute procedure destroys up to 25% of treated fat cells without surgery.
Is SculpSure Right for Me?

@headingTag>
SculpSure is ideal for people with trouble areas, particularly those that seem resistant to diet and exercise. SculpSure™ is not a tool for weight loss; rather, it is a body contouring procedure, so most patients will need to be at a BMI (Body Mass Index) of 30 or less to be eligible for the treatment.
Why SculpSure?

@headingTag>
Unlike other laser fat reduction systems, SculpSure uses advanced technology to provide results after 1 treatment unlike other systems that would require returning for multiple treatment sessions. SculpSure also includes new Contact CoolingTM to make the procedure more comfortable for the patient. SculpSure is safe to use on all skin types and tones.
Advanced Technology?

@headingTag>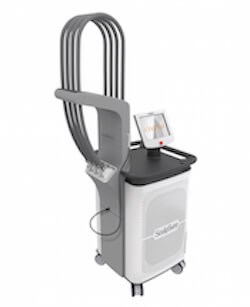 SculpSure is the world's first hyperthermic laser treatment to be cleared by the Food & Drug Administration (FDA) for nonsurgical fat reduction. This new technology by Cynosure makes laser fat reduction treatment faster, easier, and safer. SculpSure also produces faster results with fewer sessions that will save the patient time and money.
How Many Treatments?

@headingTag>
Most patients see results with as little as one treatment. However, you may wish to have additional treatments based on your desired results. We provide customized treatments plans for our patients.
What to Expect?

@headingTag>
To start a SculpSure Treatment, the device is clipped into place on the areas to be treated, and the laser begins to disrupt the subcutaneous fat cells, heating them, and prompting the body to dispose of them. Each treated area takes only 25 minutes per treatment. There is no anesthesia needed as there are no incisions, injections, or pain involved with the procedure. Most patients feel a tingling sensation intermittently throughout the treatment which is generally well tolerated. While the laser does heat the subcutaneous fat, the device counteracts this by using Contact Cooling technology to prevent damage to the skin and keep the patient comfortable. Patients do experience the warming of the laser, but typically find that the cooling of the skin is enough to keep the treatment from becoming uncomfortable.
Will I Have Scars?

@headingTag>
One of the many advantages of SculpSure over surgical liposuction is that there is no need for incisions, so there will be no scars. Traditional liposuction, laser-assisted liposuction, and ultrasound-assisted liposuction all require small incisions that do leave scars. SculpSure laser lipolysis passes over the skin with special frequencies that only affect the fat cells.
When Will I See Results?

@headingTag>
Many patients start to see results as early as 6 weeks following just one treatment as the body begins to evacuate the destroyed fat cells, with optimal results usually seen at 12 weeks. Results are gradual, as the body eliminates the unwanted fat over time.
How Long Will Results Last?

@headingTag>
After SculpSure, fat cells are permanently destroyed during the treatment and will not regenerate.
When Can I Resume Activities?

@headingTag>
There is absolutely no downtime with SculpSure, so you can have the treatment during your lunch hour and return to work immediately after the short session.
What Are The Risks?

@headingTag>
Because SculpSure™ is non-invasive and non-surgical, risks are practically non-existent for good candidates. There are no risks of skin discoloration, bleeding, or other complications. Patients may feel a little tenderness in the treated areas for a few days, but this sensation is comparable to that of an intense workout, and should not disrupt normal activities.
Will I Lose Weight?

@headingTag>
SculpSure is not a weight loss treatment. It is a body contouring procedure designed to reduce pockets of stubborn fat and improve the overall appearance of the treated areas. The number of fat cells stored in our bodies typically remains constant throughout adult life. After the SculpSure treatment, the destroyed fat cells will never return.
SculpSure vs CoolSculpting?

@headingTag>
SculpSure™ uses a laser to heat and destroy unwanted fat, while CoolSculpting freezes the fat, damaging the fat cells and allowing the body to dispose of them. Besides the technology used, the main difference is effectiveness—SculpSure™ has been proven to be more effective than CoolSculpting, while involving a much shorter treatment. Moreover, SculpSure™ provides the added benefit of skin tightening, along with eliminating 25% of body fat in the treated areas. SculpSure™ is a laser treatment appropriate for all skin types, and SculpSure™ patients have a satisfaction rate of more than 90%.
Choosing the Right Surgeon

@headingTag>
No matter what the procedure, you should always go to the practice of board certified plastic surgeons for your SculpSure™ treatments. Your provider should be knowledgeable and experienced, able to offer you customized advice and beautiful results. Your treatment should take place in a safe and comfortable office setting, like the Sarasota Plastic Surgery Center office in Sarasota, Florida. The goal of the Sarasota Plastic Surgery Center team is to make sure you are informed and comfortable before you make the decision to move forward with SculpSure™.